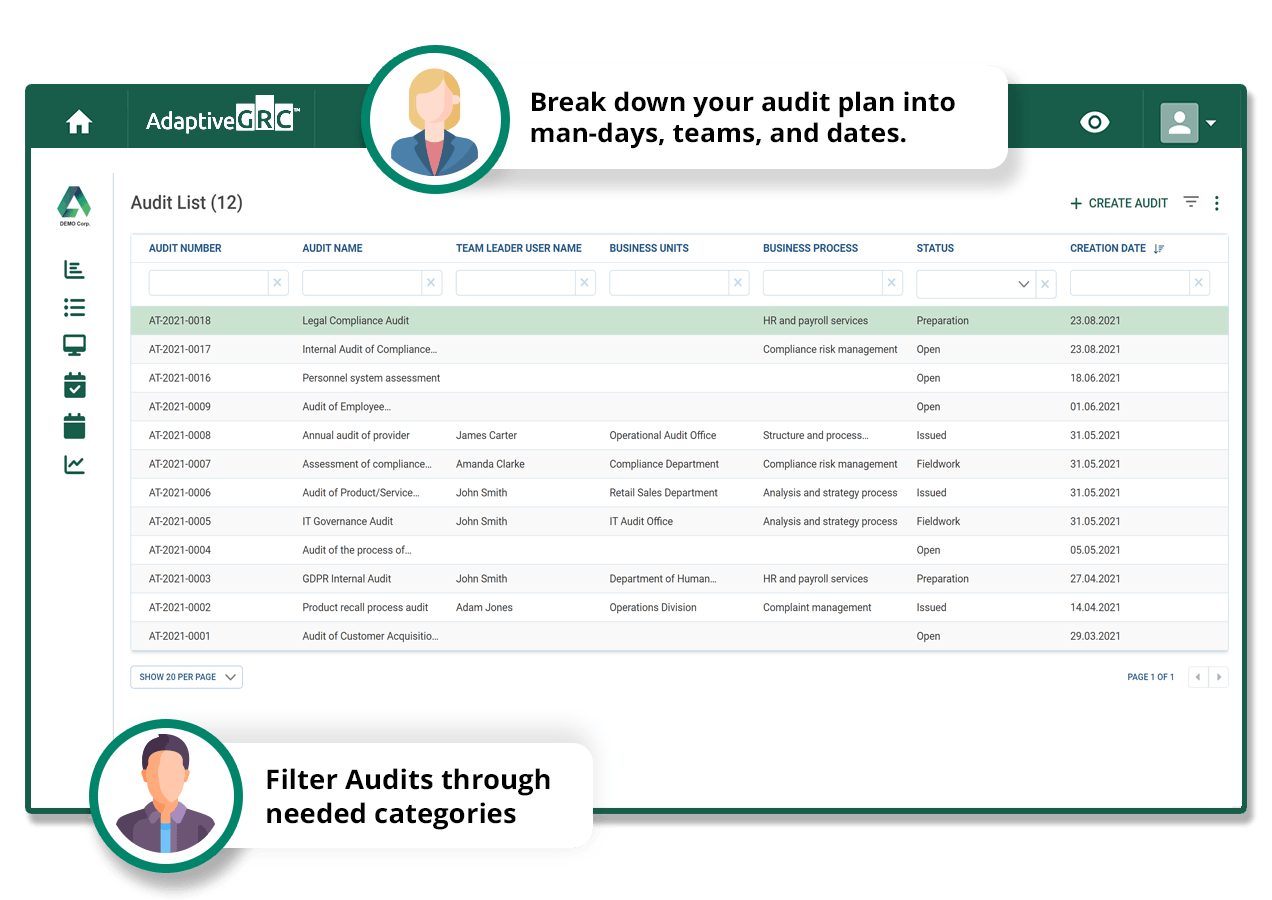 Internal Audit
Stop manual and tedious auditing. Make life easier!
Centralize, streamline and automate the entire internal audit process. Automate tasks such as scheduling of audits, identifying areas of non-compliance or risk exposures, developing action plans to address any issues identified during the audit, tracking post-audit recommendations and generating reports in real time. Get an access to a centralized repository where you can securely store findings from multiple sources in one place.


Schedule a Demo
Most popular features
Read about the most popular features of the Internal Audit module and select those you find useful for your company.
Post-audit recommendations and actions
It allows for a range of suggestions to be distinctively allocated as required from each audit. It incorporates the ability to create, assign and track these requests along with also offering an interactive dashboard for visibility on their statuses.
Reporting
Generate a variety of reports that provide detailed insight into your internal audit process. Make comparisons across different locations or branches to identify problem spots and make timely changes to prevent similar issues from happening again in other parts of the organization.
Real time Alerts/Notifications
Respond more quickly and accurately when problems arise. Get informed about completed tasks. Be able to take preventive actions.
Strategic audit planning
(up to 5-year period)
It supports a systematic approach for audit planning, which helps you to ensure that your organization's operations and risks are managed efficiently. It ensures that all material financial, operational, strategic and compliance elements are assessed regularly in an effective manner.
Annual audit planning
It helps in evaluating the risks associated with an organization's financial and operational activities. By considering the strategic objectives of an organization, internal audit plans can be prepared that provide a basis for monitoring its risk management operations.
Workflow Management
An efficient way to review and approve audits. Once the audits are created, they can be submitted for approval from different users in the organization such as managers or other executives.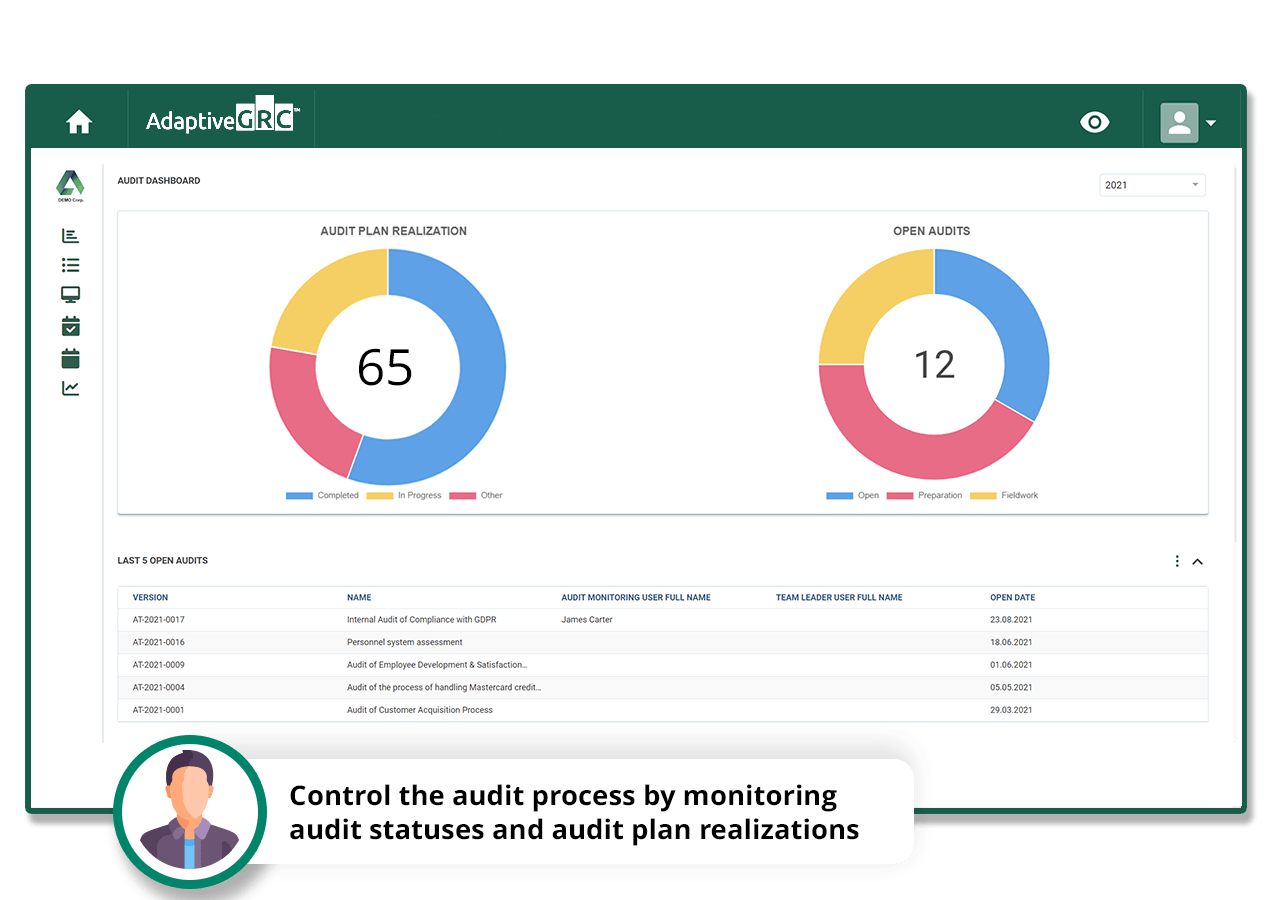 Dashboards
Improve collaboration between your departments
AGRC supports the whole audit process, from creating an audit universe through planning and conducting audits, fieldwork, creating reports until carrying on recommendations and corrective actions.
Schedule a Demo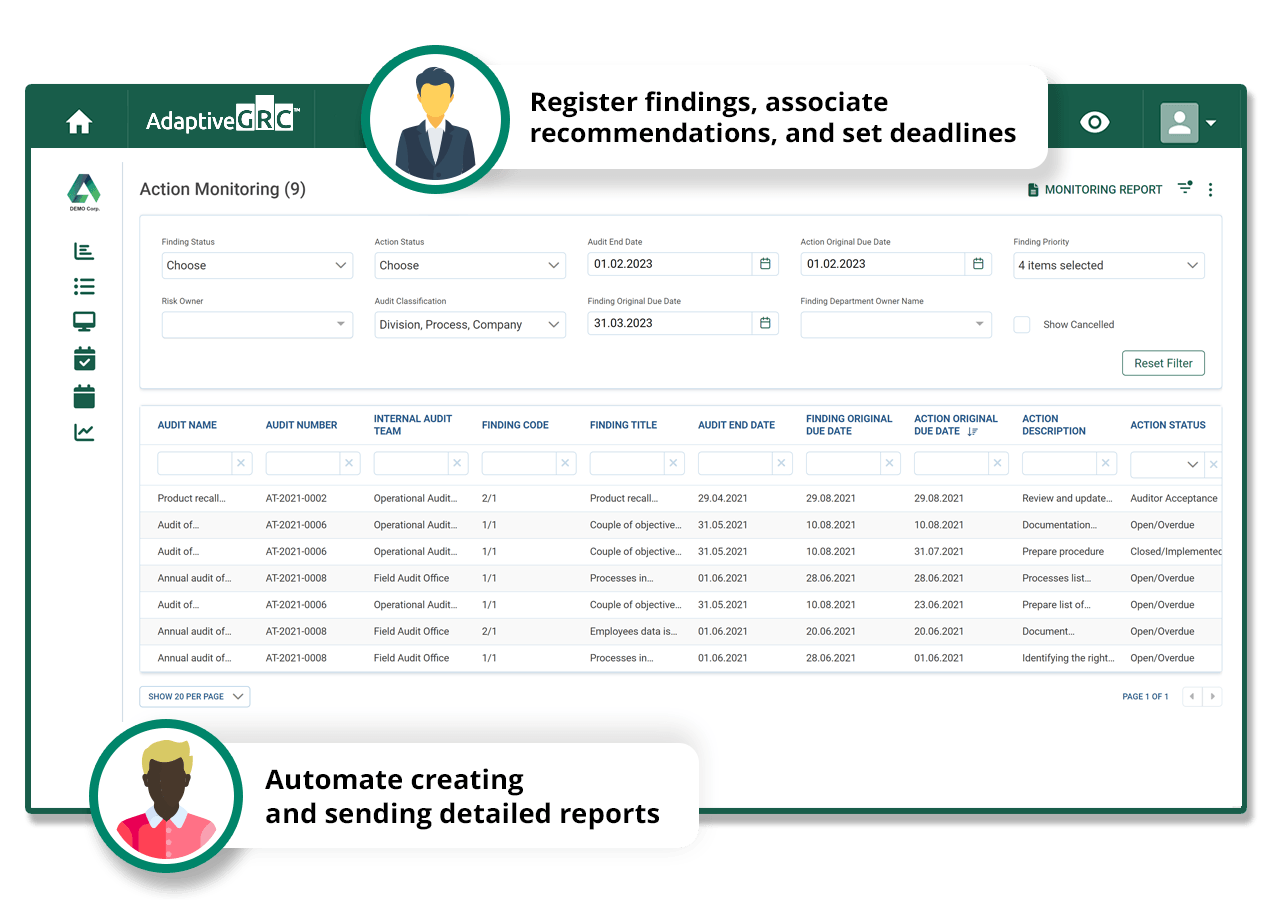 Issued Audit
Stay on-track with current and historical information
Gain insights into every audit ever performed. Check the scope, audit methods, research scope, teams, findings, and corrective actions. Thanks to a single source of truth, you won't have to worry about valuable data getting lost in spreadsheets.
Schedule a Demo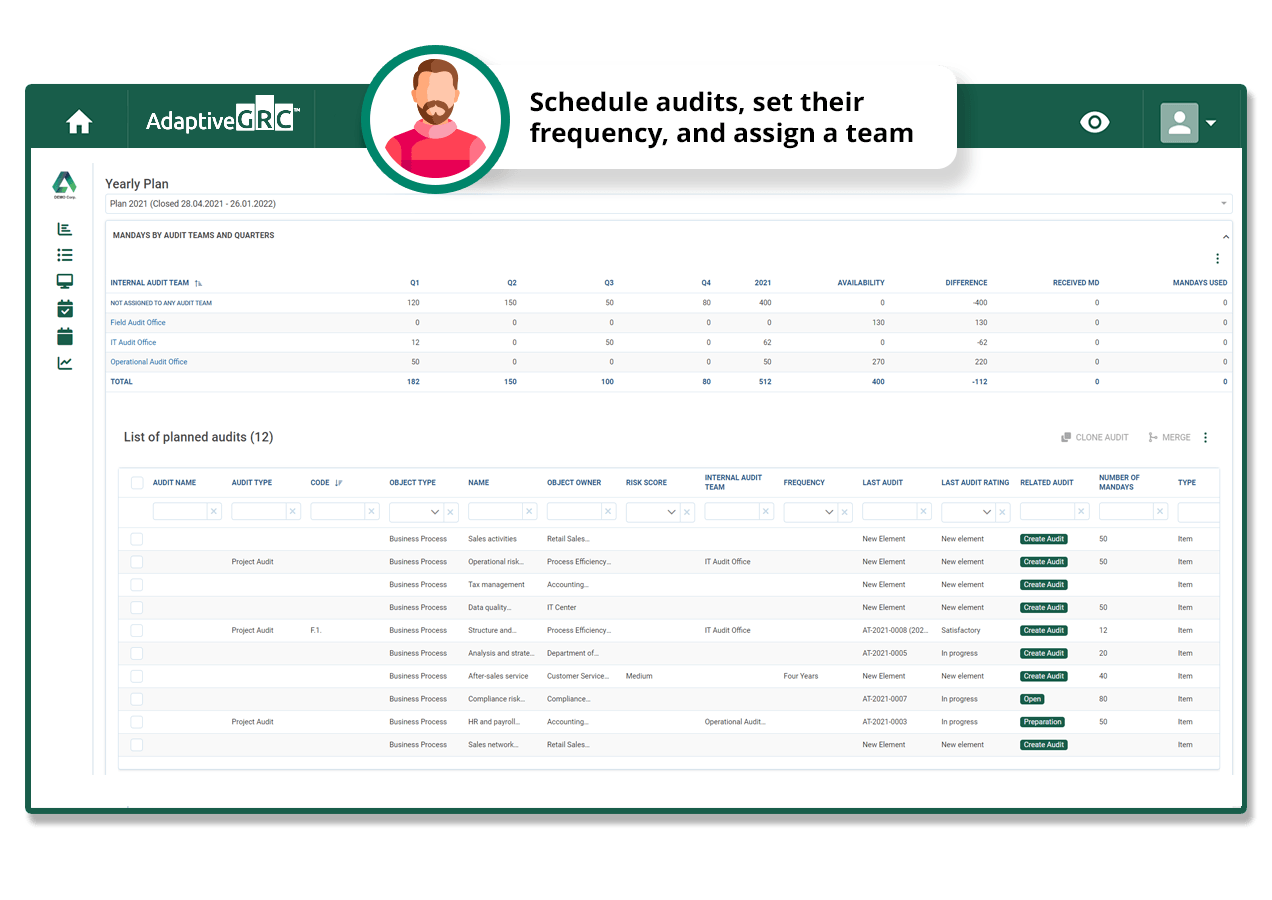 Yearly plan
Maximize Efficiency with Strategic Planning
Automate planning strategic actions for up to five years. Schedule how much time you need to spend on specific fields and plan your work in the most efficient way possible.
Schedule a Demo
About Company
We are a global team of passionate people who combine our business and process insights with our technical expertise to develop state-of-the-art business technology solutions.
20+
More than two decades of experience in serving world's largest companies
60+
Programs & projects executed in more than 60 countries all over the globe
420+
Highly skilled and qualified professionals, having both technology and business processes knowledge
500
Organizations listed in Fortune 500 choose us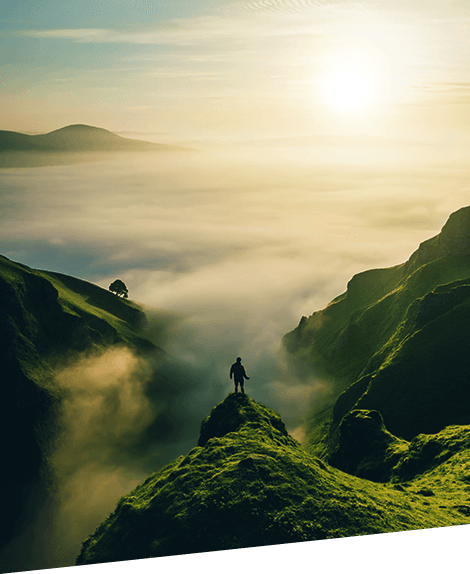 OUR TESTIMONIALS
One of the best GRC software with very good price
Adaptive GRC offers a great deal of flexibility in supporting GRC&AUDIT processes. The product is continuously developed and the customer receives new possibilities and functionalities. In addition, the price is very attractive in comparison to competitive products. The support team takes a flexible approach to the customer's needs.
Comprehensive platform for managing risk and compliance
I used AdaptiveGRC Compliance and Risk Management modules for more than a year. Implementation went smooth, and the support team was always very helpful. I especially value the functionality AdaptiveGRC offers - all GRC processes can be managed in one tool, and there is a single database. The tool helped my organization lower operating costs and gain a better understanding of risks in the organization.
Perfect program for compliance control
It is amazing that thanks to AdaptiveGRC individual assessment management can be shortened from days to minutes. The tool can generate reports for different stakeholders containing only their desired assessment outcome data. I appreciate much the possibility of generating compliance specification lists for supplier contracts or internal departments.
AdaptiveGRC supports insurance companies in their risk and compliance management processes
I used AdaptiveGRC to 1. support insurance companies' compliance management processes following a complex industry-specific regulation. 2. I also used AdaptiveGRC to support the process of managing and monitoring data processors as GDPR came into effect. I experienced a significant increase in efficiency in both cases.
What's in a name...
As the name is representative, AdaptiveGRC is a complete, interconnected GRC solution that can be adapted to organizations across industries and size. The AGRC team did a superb job designing and building a best-in-class GRC solution that addresses the challenges faced in today's uncertain and ever-changing global business climate. Working with the AGRC team has been a pleasure and the support they have provided is exceptional.
Financial institutions could benefit greatly from AdaptiveGRC
I am happy to be able to use AdaptiveGRC in my work. This dedicated solution is very helpful for anyone that has to fill out the SREP questionnaire. The extra time I gained was priceless. The platform's design was also very appealing to me. The fact that it was so simple to use was a major plus for me. Due to its comparison capabilities with past years' forms, I was able to cut down on the amount of time it took to complete the new questionnaire. What is more, I was able to monitor the progress of the people assigned to the process.
Great support for inurance company
My overall experience has been great. I also liked the layout of the platform. The time and control I gained is invaluable. I like the fact that it was very easy to use. It definitely allowed me to shorten the time I had to spend on filling out the SREP questionnaire. I also could easily control the status of work of my team members, check their progress, and monitor on daily basis.
AdaptiveGRC - Big Player in GRC
Easy to install and easy to configure. Out of the box solution. Cloud based or Server. AdaptiveGRC is an enterprise governance, risk management and compliance (eGRC) solution set with unique and unequalled capabilities. AdaptiveGRC can be deployed as one fully interconnected solution suite, or you can choose one or more modules.
Solutions
The AdaptiveGRC platform offers a variety of modules to help manage GRC activities for your company.
In order to meet your company's specific needs, our team of experienced developers can tailor the required functionalities to deliver exactly what your company needs. If your company requires a customized module to effectively meet its needs, we can help.
Let us fit the best solution for your company. Fill out the form below.
GET CONSULTATION
Streamline Your GRC Activities with AdaptiveGRC
Get Results Faster.
Our consultant will work with you to determine what your company needs.

We will schedule a product demo to show you the required features.

We will gain your feedback and tailor a tool to your needs.