Plan Execute Evaluate



Internal Audit Results!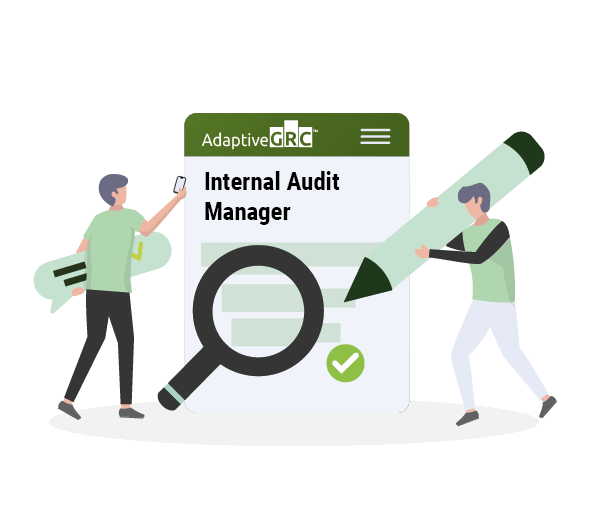 Internal Audit Manager is a comprehensive tool that facilitates internal audit processes, from the setup of audit universe, risk analysis, strategic planning, through annual planning, performing the audit, all the way to monitoring and implementing post-audit recommendations and other actions.
Internal auditing, used as a universal tool for monitoring and controlling the organization, not only shows the compliance of the quality control system with appropriate norms, standards, procedures, internal requirements and legal regulations, but also provides management with data necessary to make informed decisions that will shape the future of the organization.
The goal of internal auditing is to add value and facilitate current operations, as well as provide information for planning future enhancements and optimizations. Such auditing relies on systematic and ordered assessment of risk management, control and corporate governance processes, actively aiding in improving their efficiency. This helps the organization in achieving its goals by ensuring the efficacy of said processes as well as by providing advisory information.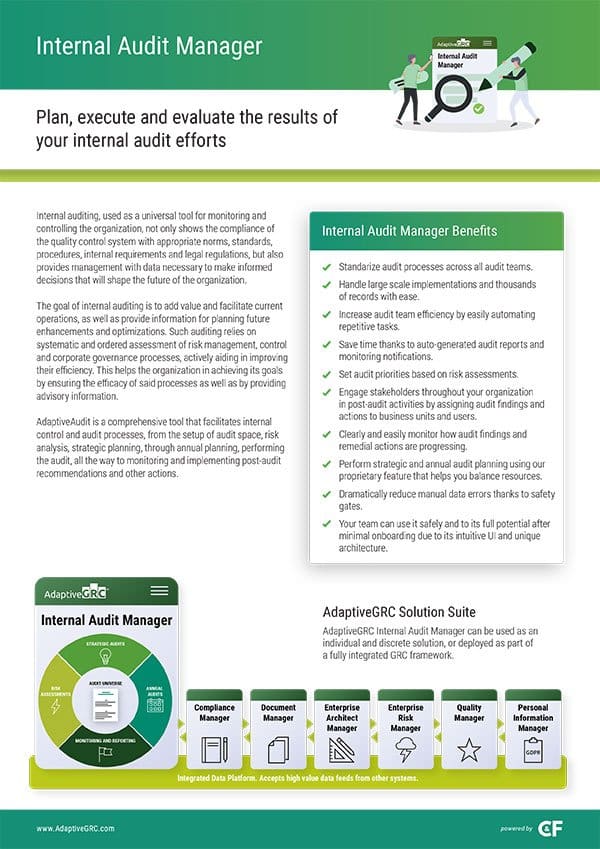 R

Flexible audit universe

R

Risk assessment for each area

R

Effective audit planning

R

Complete control over the audit process

R

Monitoring of post-audit recommendations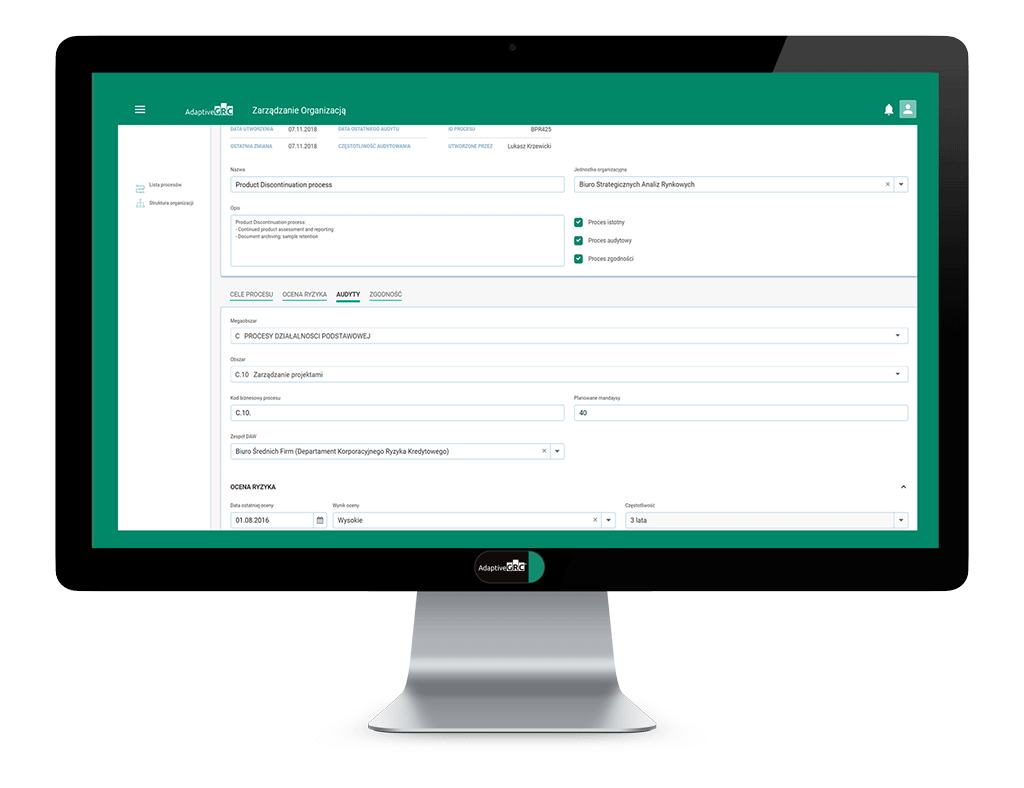 Audit universe and risk assessment
According to International Standards for the Professional Practice of Internal Auditing and the Institute of Internal Auditors (IIA), the fundament for designing a work plan for internal auditors is risk analysis.
In AdaptiveGRC, the audit universe includes a database of audit objects, such as processes, business lines, companies, external suppliers, applications, etc.
The AdaptiveGRC system enables you to perform risk analysis in each of the audit areas on the basis of questionnaire input and risk-calculating algorithms.
Strategic audit planning
(for a 5 year period)
The AdaptiveGRC solution allows you to configure a strategic schedule of audit reviews in the organization within a 5-year period, one that accounts for levels of risk related to each area (notably, audit processes) as well as the dates and results of recent audits.
Such planning results in the creation of a strategic audit plan for areas that ought to be audited in the following years.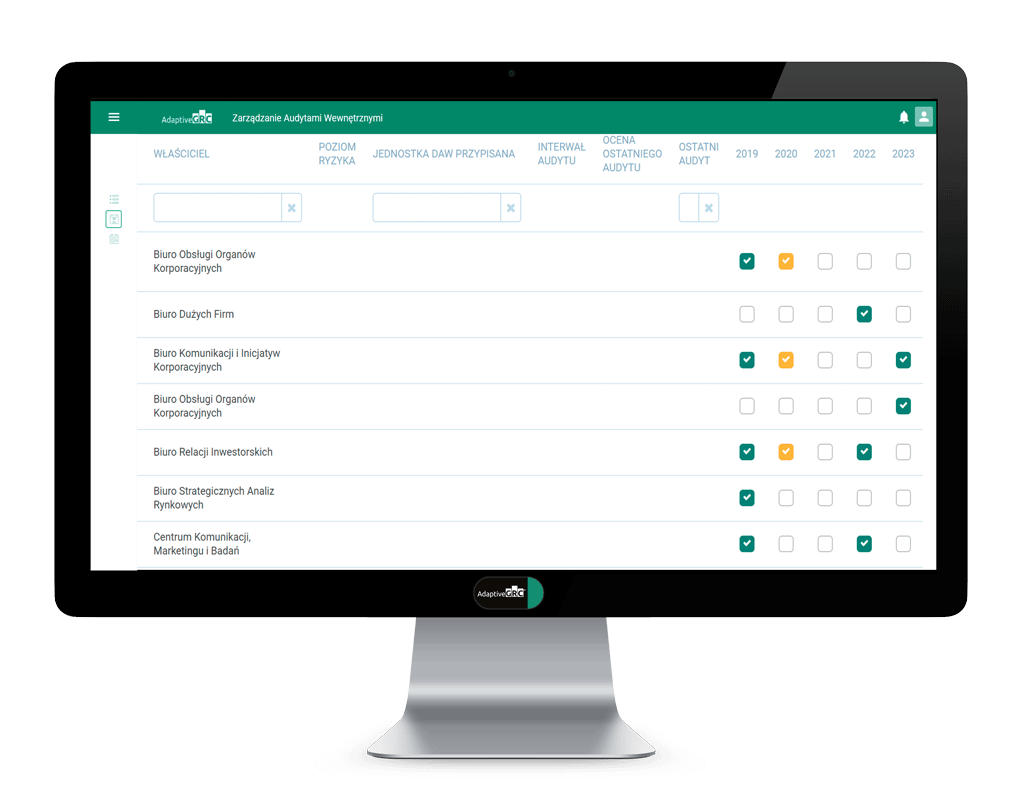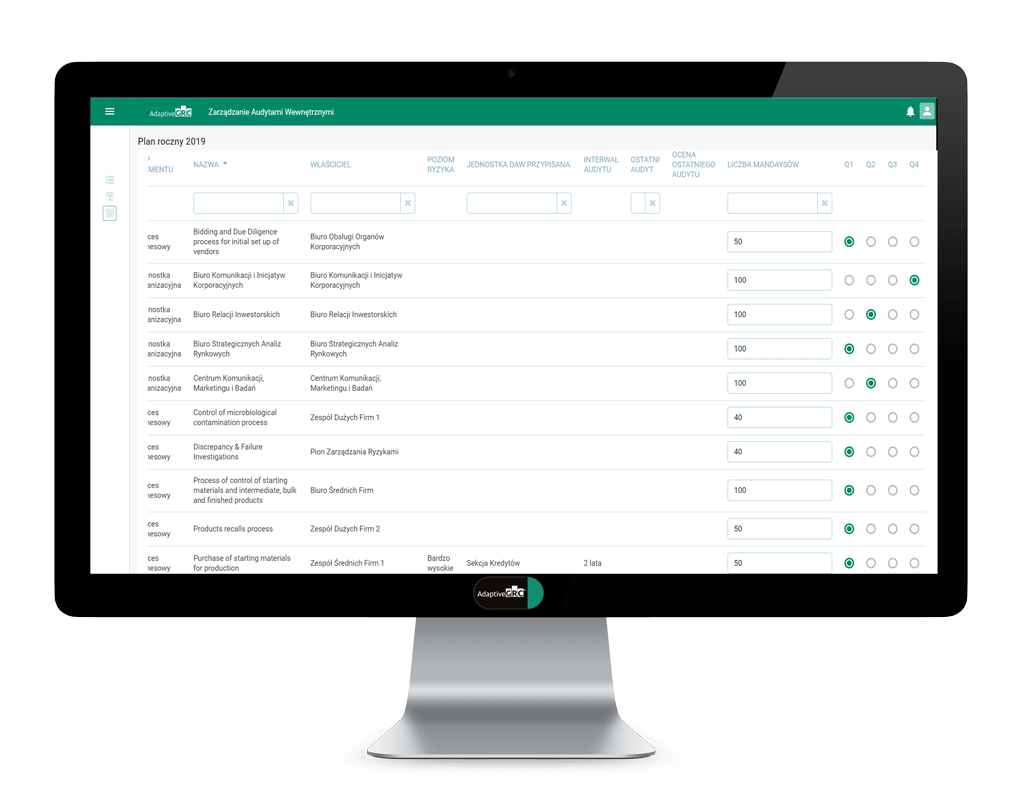 Annual audit planning
(one year period divided into quarters)
The annual audit plan generated by AdaptiveGRC contains a general description of tasks that the internal audit team is going to perform over that period. As a fruit of cooperative intra-organization labour, this annual audit plan ought to take into consideration both short- and long-term company goals. The AdaptiveGRC system allows you to define within the annual plans the composition of audit teams, as well as to distribute person-days allocated to each task among the team members.
As part of annual planning you can also plan audit tasks for each quarter of the given year.
The system allows you to automatically allocate person-days to teams and to define the composition of each team, as well as to distribute and swap person-days between teams.
Defining an audit is divided into several stages, each flagged with a status. Depending on the current status of the audit, only certain fields can be filled in. The users of the system, in accordance with the role they play in the audit process, fill in information, change the status, validate data and move to the next stage of the audit process.
The audit can be assigned the following statuses:
Open
Preparation
Fieldwork
Issued
Closed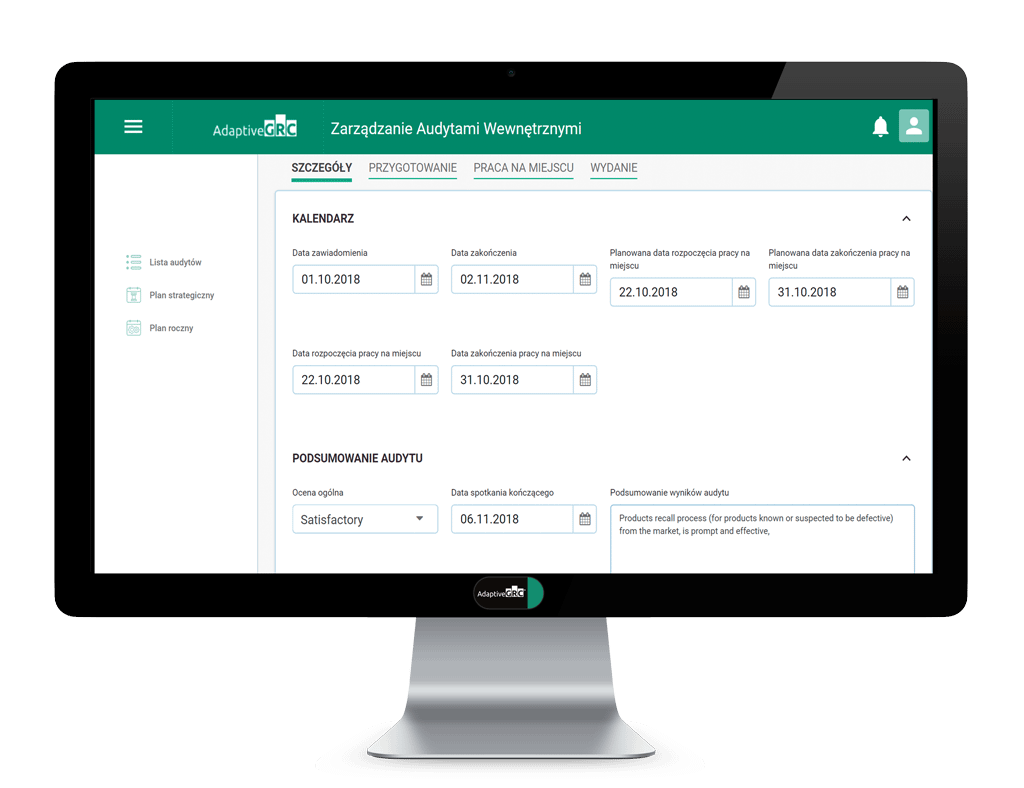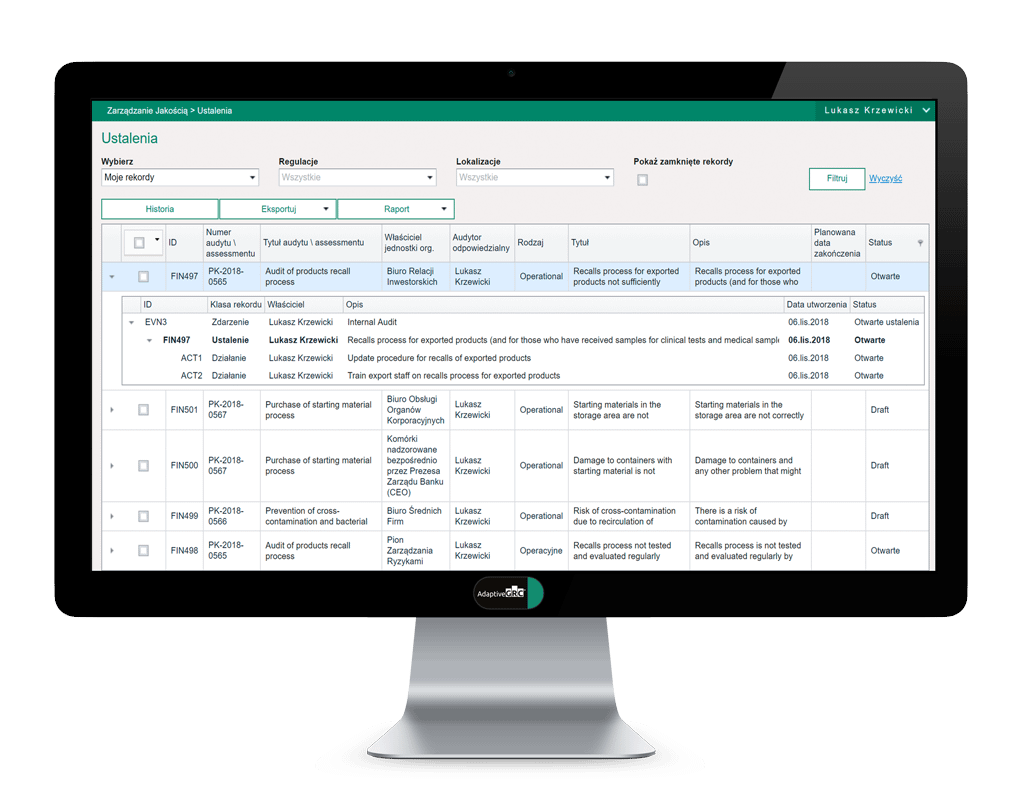 Monitoring of post-audit recommendations and actions
While auditing is being performed on location, the system allows you to monitor the degree to which the control mechanisms meet your predictions. Should there be any discrepancies, you can have these listed and any post-audit recommendations and corrective actions registered and assigned. Following this you can monitor work progress.
AdaptiveGRC gives you access to comprehensive monitoring of the implementation of post-audit recommendations through real-time access to information about the status of each recommendation as well as reporting to the individuals involved.
Reporting and automatic system notifications
The system can generate a variety of reports to assist you in analyzing the organization's situation precisely and to clearly present the results of all audit actions.
The AdaptiveGRC system notifies its users about all significant changes in running audits as well as about any action required from each user.
User notifications include:
when the audit is ready and sent to the Auditor,
when all audit questions are answered,
when the audit is completed,
what the deadlines for each post-audit action are,
all status changes for post-audit actions.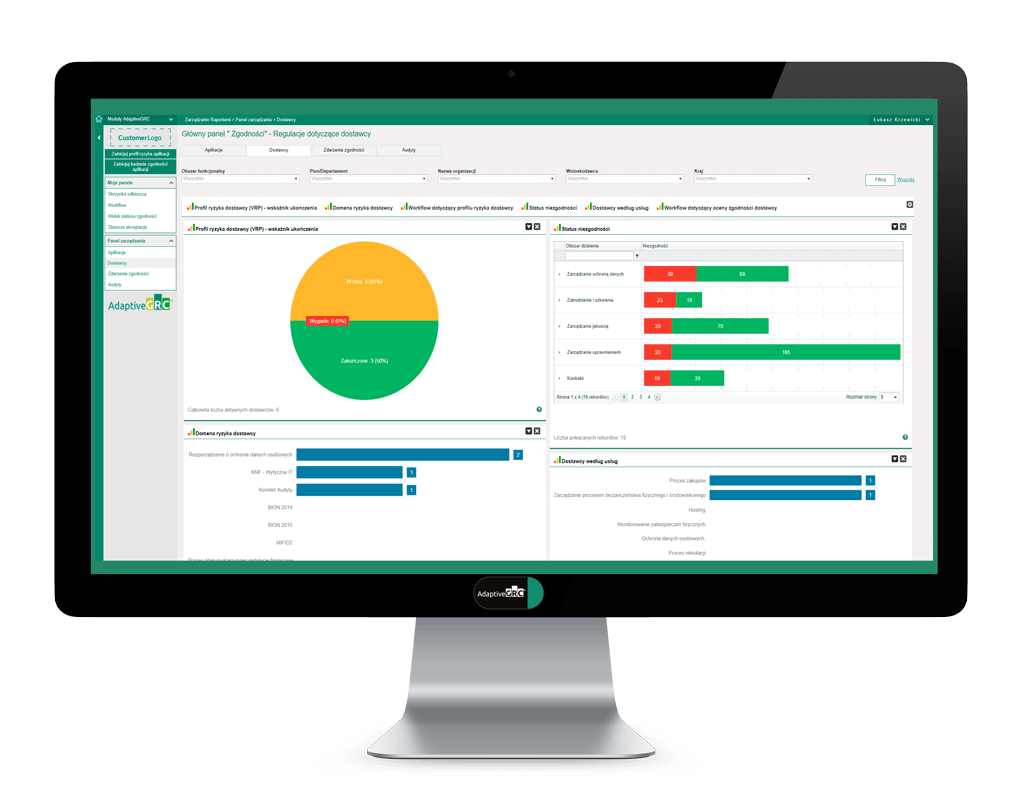 Plan Execute Evaluate



Internal Audit Results!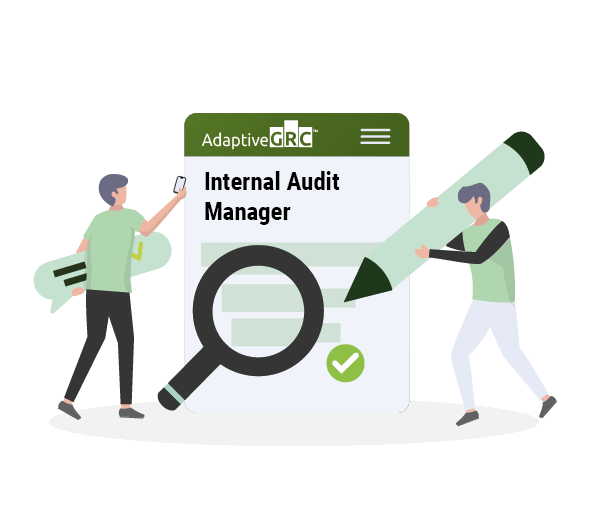 Other AdaptiveGRC Solutions: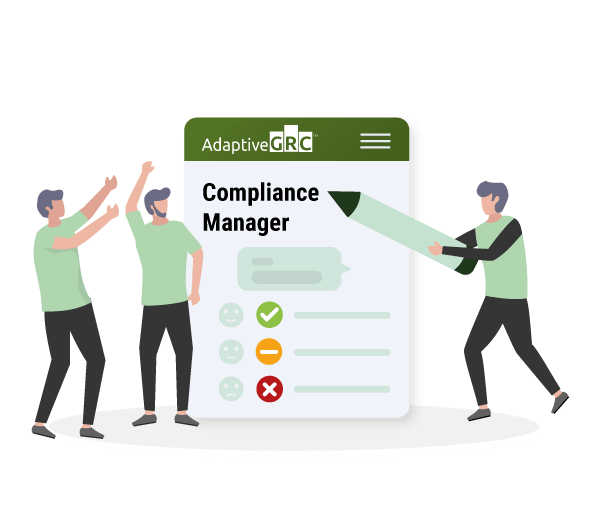 Compliance Manager
Flexible, online turnkey system designed to provide customers with tools meeting compliance needs.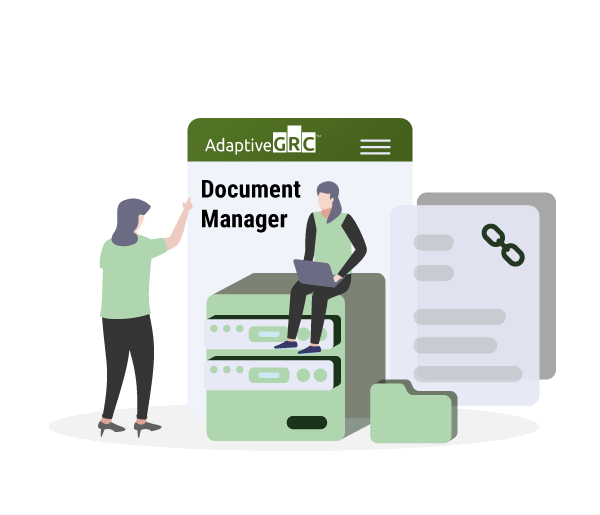 Document Manager
Flexible and user-friendly solution to manage approval process for documents.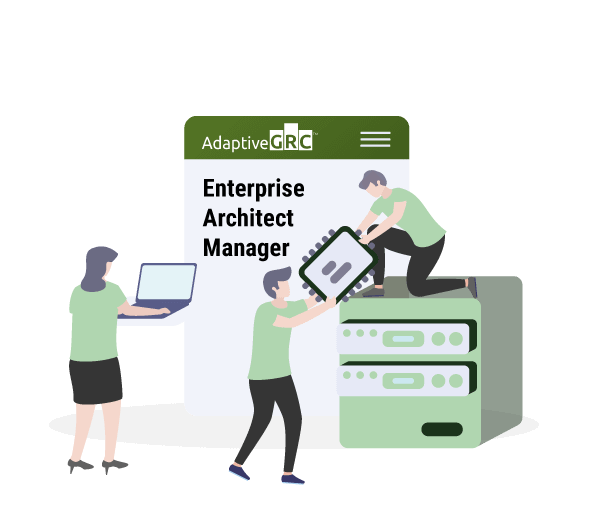 Enterprise Architect Manager
Superior GRC information in one system with flexible components to make operating costs lower.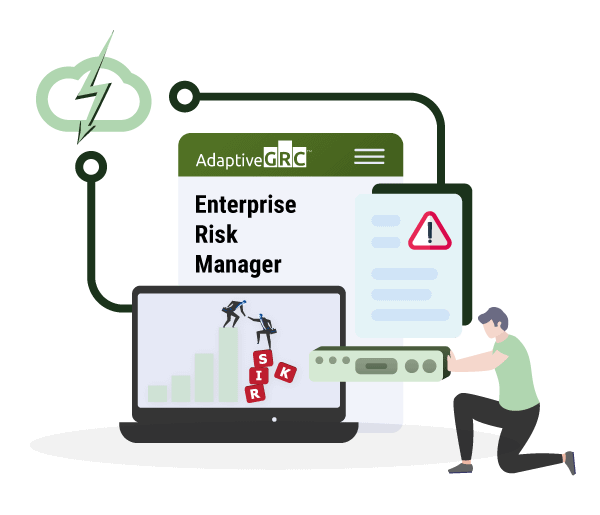 Enterprise Risk Manager
All company risk completed within one system with functions of instant reporting and mitigating current principles.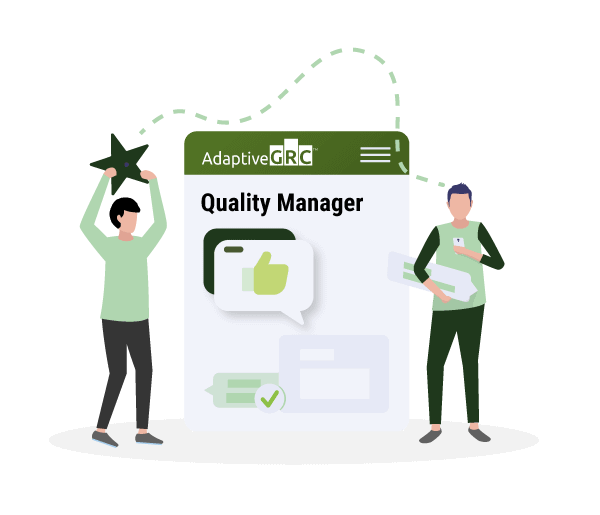 Quality Manager
Full Quality Management system identifies key information across all GRC activities.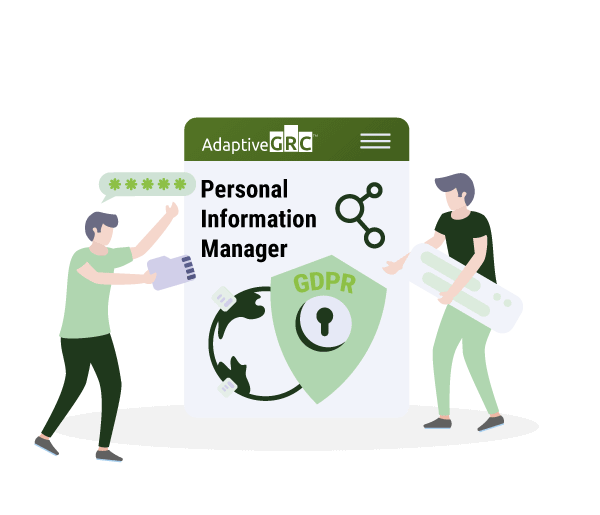 Personal Information Manager
A system ensures compliance with GDPR according to the current Regulation.