Audit Software: A Buyer's Guide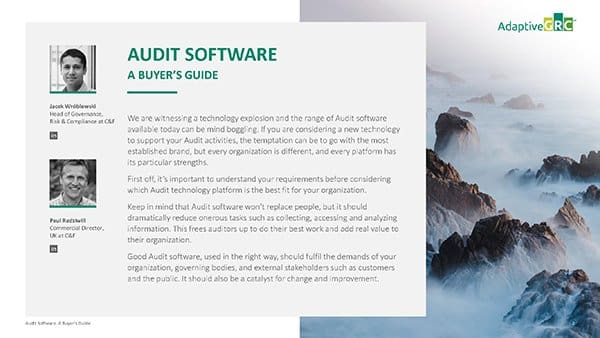 Learn how to steer through the explosion of Audit Software — fill out the form below to download the PDF
Ensure you're using the right Audit Software
If you are reviewing your Audit technology options, the temptation can be to go with the most established provider, but every organization is different, and every platform has its particular strengths.
We surveyed the Audit Technology landscape, and while most technology solutions appear similar, we found striking differences from one provider to the next.
This guide summarizes our findings and covers four key considerations to assess your Audit software:
R

choose an Audit platform that aligns with the right, robust methodology for your organization,

R

recognize the benefits that align with your organization's goals,

R

identify the features that your organization can't do without,

R

pinpoint differences between providers that are important to your organization.